Break Free From Corporate
Break Free From Corporate
Break Free From Corporate
Break Free From Corporate - Be Your Own Boss is the only podcast of its kind, designed especially for entrepreneurs that have come from the corporate world. Whether you are still in your corporate job waiting to break out and get your business idea off the ground, or if you are transitioning out of the corporate world to running your business full-time, or if you have already left the corporate world and have already made the transition yet seem to be stuck and unsure of how to get your business to really take off, then this podcast is for you. Every episode contains an insight into everyday entrepreneurs just like you and me, who have made the transition and set up successful businesses and they share their insights with us - to inspire us all to pursue our dreams, never give up and continually learn from others who've done it before. Best wishes in your business moving forward! Gavin Sequeira
This podcast is looking for the following guests...
Guests on the Break Free Podcast, are usually disgruntled corporate people looking for help and support to help them transition out of their job, into something they are better aligned with, that gives them purpose and passion.

We even encourage guests who have already made the transition yet seem to be stuck and unsure of how to get their business to really take off, then this podcast is for you.
Do you want to be a guest on this Podcast?
We can help make that happen!
When you create your free account you will be able to pitch this podcast and get access to these great features...
🚀 New podcasts added all the time!
We have a personal connection to ALL podcasts on our site.
They are never spammed or surprised when they receive a pitch from us!
📈 Pitch Analytics & Insight.
You are immediately notified and can see how many times your pitches are read. Never guess if your pitches are being read, know for sure!
Create your account by clicking the following button and pitch this podcast for free, today!
Already have an account?
Sign in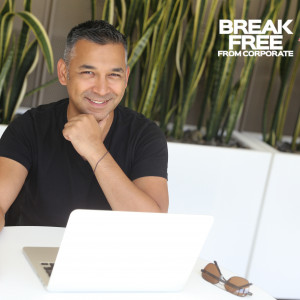 By Gavin Sequeira