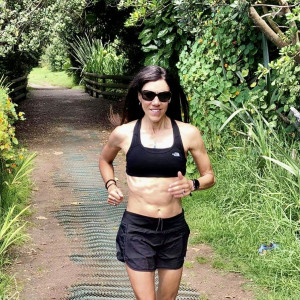 Lisa Tamati
Ex Pro Endurance Athlete/Author/Serial Entrepreneur: Helping you optimise your performance, health and mindset.
---
For the past 25 years Lisa has competed in the world's toughest endurance events clocking up over 70,000km, racing everywhere from the Sahara, to the Gobi, to Death Valley to the Himalayas, Australia and Europe. She has pushed her mind and body to the limits, has both succeeded and failed and learnt many lessons along the way
She has also had to overcome many obstacles in her personal life from losing two babies to bringing back her mum after an aneurysm left her with massive brain damage at the age of 74 and with Doctors telling her she would never do anything again she proved them all wrong.

She knows what it takes to overcome obstacles, to chase massive goals and face your fears and now she lives to teach, coach and inspire people to reach their true potential and push the barriers of their own perceived mental and physical capabilities.

Lisa is the author of three best selling books. Her first two "Running Hot" and "Running To Extremes" chronicle her adventures and her brand new book "Relentless - How A Mother And Daughter Defied The Odds" tells the one in a million comeback story of bringing her mother back from the brink of death in a four year odyssey that has baffled the medical fraternity.

Lisa has also produced a number of adventure film documentaries, hosted her own TV show, is an international speaker and a podcaster at "Pushing the Limits" which has been going for over 5 years and 185 episodes and which is regularly ranked in the top 200 podcasts in health and fitness world wide.
---
Podcast
---
Pushing the Limits podcast is all about helping you be the best version of yourself possible. Whether that be in the sporting arena, the boardroom or at home with the family. Host Lisa Tamati is an ex professional ultra endurance athlete with 25 years experience competing in the world's toughest endurance events and leading expeditions. She is the author of 3 international best selling books, is a documentary producer, speaker, serial entrepreneur and health optimisation coach. Her guests are world leading experts in health science, medicine, biohacking, complementary medicine as well as high performance experts, elite athletes and those with empowering stories. You can find out more at www.lisatamati.com
---
Profile Views: 106