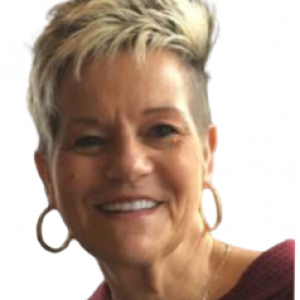 Kathleen Gage
Plant Based/Vegan Marketing Consultant
---
Kathleen Gage has owned and operated her business for over 26 years. An expert in changing with the times, Kathleen is known as the "no-nonsense, common sense" marketing strategist, speaker, author, and visibility expert. Her clients are driven by making a difference through their own unique voice.

As a result of discovering the life-changing power of plant-based eating in her sixties, Kathleen has proactively shifter her focus to working with those who are open to the possibility of what plant-based eating can do for them and their bottom-line (both the one they sit on and the one that reflects their revenues).

Kathleen works with authors, consultants, speakers, manufacturers and small business owners who are ready to get their message out to market in a big way through books, speaking and podcasting on both sides of the mic.

Kathleen received her certificate of completion for Plant Based Nutrition from eCornell University in order to more fully serve her market and raise awareness about the benefits, and compassion, of a plant based lifestyle.

Kathleen is the host of Plant Based Eating for Health Podcast show, the Plant Based Eating for Health blog and the Facebook group by the same name. Her passion, commitment and obsession is raising awareness about the benefits of a plant based lifestyle.

---
Podcast
---
A show for plant based eaters and vegans who are committed to healthy, whole food diets, compassion to animals and the planet. Only 100% plant based & vegan lifestylists, authors, consultants, business owners are featured on the show. This show is great for those eager to learn how to transition to a plant based and vegan life. We have a strong focus on a balanced protocol of nutrition, exercise, meditation and community. Eating a whole food diet without animal products has the potential to prevent and reverse diseases and obesity, which improves our health and longevity. There is a focus on how plant based eating can actually improve your performance in business. We are extremely committed to compassion for animals of all breeds and a life void of abuse to animals.
---
Profile Views: 117